Raclet / Roadmaster trailer tents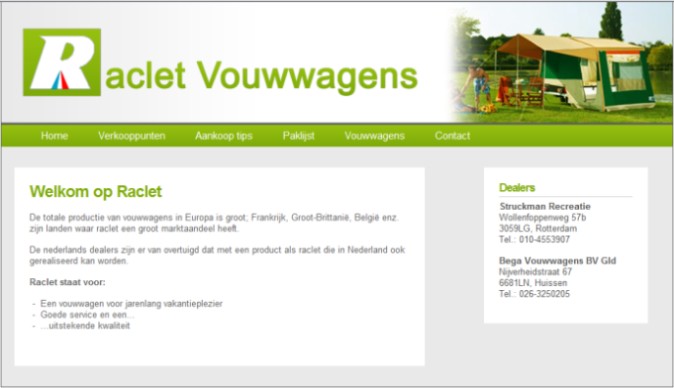 You'll have a great holiday in a Roadmaster.
In the summer of 1959 Ad van der Zande Sr. decided to build a kind of trailer tent from a trailer and some tent cloth, because financially there was no other way for his five-children family to go on holiday.

A gold and metals sales rep heard about this, was immediately impressed and placed an order for 300 units. "No," was the frank response. There was no money for machines or for buying material. The rep stuck to his guns, sorted out the money and on 1 January 1960 the garage business was transformed into a workshop for building trailer tents.

In 1974 Ad's son joined the business. Ad Jr. began at the bottom of the work process. During the first few years he worked as chief cook and bottle-washer and so got to know the entire process of building trailer tents. And this is one of Roadmaster's strong points. Ad knows the product inside out, from the first screw down to the final finish.

Together with his wife Sandra and 14 employees, he performs the entire building process in-house. This makes for a very short work process, making it possible to respond quickly to the customer's wishes. In addition, it goes without saying that only the very best materials that can be obtained in Europe are used.

Ad is partly responsible for developing, building and marketing the trailer tent. Sandra is entirely responsible for the sewing workshop and for developing the tents. Together they spend evenings brainstorming so as to improve their product further. The starting-point for this is always convenience and top quality for the customer. This ensures that an all-in product is always supplied. No choices have to be made from a wide variety of options: only the very best and completeness is the motto here. "When you buy a Roadmaster you can go on holiday without spending any more money."

Ad and Sandra are proud to supply a rock-solid Dutch product. This is certainly demonstrated by the frequent use of red, white and blue, the colours of the Dutch flag.
Besides the business in Goirle they have eight dealers, so that everyone in the country can go on holiday in a Roadmaster. In addition, the initial steps have been taken on the European market and here too the reviews are highly positive.

Roadmaster is of course open to innovations. With this in mind, the market is closely monitored and customer research is regularly carried out to enable the firm to respond to all requirements and wishes. It is important for Ad and Sandra that they remain the biggest and best in the Netherlands in this competitive market. They consider it a great compliment that their competitors also closely monitor the developments at ZARI BV / Roadmaster and copy ideas from them.

Over 40 years after Ad van der Zande Sr.'s initiative, the Dutch firm of ZARI BV / Roadmaster from Goirle in the province of North Brabant is one of the absolute world leaders in the field of trailer tents.

A Roadmaster will last you a lifetime. Every year over 500 new families decide to go on holiday with a trailer tent. Every week Roadmaster receives positive reactions from customers. By now you will have got the message that the Roadmaster makes for optimal holiday enjoyment.
\