Cuff for 3-piece tripod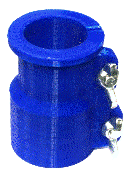 To place the Quick Sat Finder, you must have a 3-piece tripod. However, if you have a one-piece tripod you can adjust this by placing a cuff with cinnamon. On our website you can order a cuff with PVC pipe:
The cuff is a tripod with a tube diameter of 41mm.
We supply to the cuff:
2 M6 screws, two wing nuts and PVC pipe with a length of 25 cm and a diameter of 35 mm. We have you already drawn a straight line on the PVC pipe.

If your tripod has a different tube diameters, you can still order a cuff. However, you will need to order by email and specify what diameter your tripod.