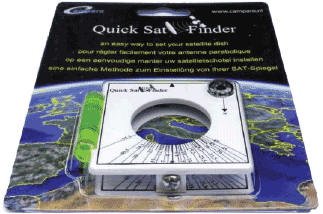 €11,95
an easy way to set your satellite dish and within
5 minutes watching TV
Single tube Æ 35 mm
Cuff Æ 49 mm



The big advantages are:
It's extremely easy to install
You can level the tripod in a clear and simple way.
Clear degree indication where the satellites are located.
The Compass will not affected by the satellite dish.
Because of a straight line on the tube on which the dish is placed you can easily go from one to the other satellite (e.g., Atlantic Bird 3 5° W, Hotbird 13° E, Astra19,2° E, Astra 23,5° E, and Astra 28.2° E).